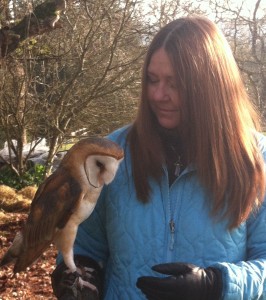 This is a very important, personal, and special Imbolc for me. I'm taking the time to look at my Life as it is now, and compare it to the Wheel of the Year. Jung might have called it the Hero's Journey.
Much of the Craft as we know it today is based on recent reconstruction. In some cases, the spells and rituals had more to do with the personality of the creator than being historically correct. Even more to the point, depending on the influence of that personality, their spells and rituals became The Law. If you didn't do ritual or magick a particular way, you weren't doing them right! Er… Welcome, Pagan Dogma? I know all about this because at one point I was a do-it-the-right-way Pagan snob. Now? Not so much. Blasphemy for some, liberation for me.
So, at Samhain last year, life began to turn to a tide that proved unbearable uncomfortable. I did a personal ritual to usher in the perfect life events to take me in the direction I was supposed to go. It was, after all, Samhain: the New Year. By Solstice, I was on the road. I left my partner of five years, and was coming home to Oregon. It was my goal to be in Oregon by the Solstice, and I made it. I had just finished "Winter Shock" which was a joy, but that joy was suffocated by the huge task of recreating my very Life, so I hadn't had the opportunity to celebrate my accomplishment.
I got an amazing discount at a seaside lodge. It was perfect! I had a lovely personal Yule celebration in a huge, private hot tub on the Oregon Coast with some very nice aged scotch and fudge. This was seriously the only thing that I had available for cakes and ale; I'm not complaining! I see the humor. I did the whole Solstice ritual in the round hot tub, practically big enough to swim in, listening to the waves wildly crashing outside my window feeling totally free for the first time in a very long time. I celebrated the birth of "Winter Shock." The ritual was a time of immense gratitude to the Goddess and the God, a time for inward reflection and setting intention, and it also represented an in-between time, the longest night of the year when we're contemplative, then turn toward light. The hot tub became a large womb, like a cauldron. I gave myself the gift of another chance to be the "Sally" I came here to be, nurtured by the Goddess. The energy was phenomenal. It was an amazing experience. I'll never forget it.
Now, at Imbolc, I certainly have a lot to celebrate, and after hitting rock bottom on so many levels back in December, which feels like a lifetime ago (indeed, it was another life), I certainly have nothing but potential!
And so we come to Imbolc. I go with my feelings, and I go with the personality of the creator, which in this case, is me. In your case, it's you. I energetically feel the cross quarter Sabbats much more than I do the Solstices and Equinoxes – not always, but it's a general trend. This year, Jupiter is going direct just before Imbolc. I'm a Sagittarian, and Jupiter is my ruling planet – the planet of expansion, so this makes me happy! I celebrate Imbolc with light, using lots of candles, and combining that with Jupiter going direct, I'm celebrating with my Inner Light Expanding. I know this is all very personal, but I believe that's how we all learn and grow. We trust. We splay ourselves wide open in the face of Life, and become teachers, healers, friends and support for each other. We're all in this together. I hope you think about how your Wheel of the Year is going — the seeds, the growth, and how our personal shadows always, always, always lead us to the Light.
Imbolc, for me, is all about potential, initiation, honoring the coming light. We've made it through the coldest, darkest part of the year (I've made it through the coldest, darkest part of my life so far), and now we're closer to the Light. The days are growing longer. We move from inward reflection to action. I turned fifty last November and didn't celebrate and honor my huge, enormous, giant, stupendous, cosmic event (there's an adjective for every decade). I kindled the desire for change on Samhain, was in the womb on Solstice, so now, on Imbolc, it's time to be born. I'm having an Imbolc ritual filled with Light, and it's going to be my Birthday party — surrounded by great friends I love and adore! It is an Initiation, and those present at the ritual will be stepping forward in to their Initiation and new birth as well. This will be joyful!
I think we invent Life as we go along.
So, where are you this Imbolc? Is it a rite of passage, a time of expansion, a time to grow the Light within, a time of initiation, or maybe even a Birth Day for you too? Invent your Life!