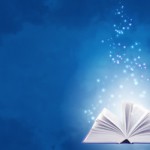 I wish more websites would include books that are not written specifically about Witches or Witchcraft when they list their "Top Ten Books For Witches". Knowledge and Wisdom, two very different things, come from the full banquet of Life. And we would become extremely malnourished if we ate only one kind of food. So it is with learning The Craft. A banquet of all kinds of books, not just the Witchy ones, will deepen your Understanding. Some websites even list books in elaborate categories, like "Beginning Wicca" or "Herbal Studies", etc. These lists are usually filled with great recommendations, and many popular books are mentioned over and over again on different websites. (A few of them even list my book, "Natural Magick: The Essential Witch's Grimoire". It's true. Don't tell anyone, but I occasionally google myself.) I also wish the lists would include some fiction works! Fiction and Story Telling are powerful.
I want to give you my Top Favorite Books That Never Mention Witchcraft. I was going to say "Top Ten", but there are nine authors, and a couple have more than one entry. These wonderful books are about visualization, New Thought (which started around the beginning of the 1800's), Divinity Within, and changing your thoughts. It is my belief that Magick is about being in the right vibration, and that ritual is an aid to get you vibrating in the right direction to make the things you want to happen happen (I had to leave that sentence as written just because it's fun). I also believe that we have to change to make our lives change. Doing ritual and magick to create change is about creating a new awareness within ourselves.
So, here are my top ten books, not necessarily in order, for creating positive change – and that's what magick is all about:
Wallace Wattles's works are amazing. The following three are very short books, and you can google and download them for free. I consider three of his works to be a seminal trilogy in New Thought. His most famous book is The Science of Getting Rich. The title means "rich" in money, yes, but it also is about being Rich in All Things; it means a life abundant in love, beauty, and friendship. The other two books are The Science of Being Great, and The Science of Being Well. Interestingly, Wallace Wattles would have considered himself a Christian and was prominent in his Methodist church, but was thrown out for "heresy".
Think and Grow Rich by Napoleon Hill.  Some of the word choices in the book are a bit difficult to take because they were politically correct and even considered polite in the 1930's. They would be law-suit worthy today. So, depending on the version you're reading, just stick with it. The title is a catchy one, but I think the title would be more accurate as "Think and Change Your Life." I've read this book several times, and I believe that the practices in this book will change your life – like magick.
Excuse Me, Your Life Is Waiting, by Lynn Grabhorn. The author is deceased, and some of her other books are very fringe, indeed, so read them with an open mind if you continue reading this author beyond her most famous work. This book takes the work of the previous two authors and really emphasizes that you have to FEEL GOOD to draw the same kind of energy to you (the ever-popular Law of Attraction). If magick is manipulating the natural, then this book makes more sense than any with regard to manipulating how you FEEL to in order to bring things that FEEL GOOD to you. Read it!
I recommend the Tao Te Ching. This one is tricky. It's comprised of 81 verses that can mean different things at different times in your life. That alone is pretty magickal! The various translations can even seem to mean very different things. Try to find one that resonates with you, and then find one that has scholarly commentary along with the verses. (This is true of the Bhagavadgita as well. This is a treasured and sacred text, but I do not personally list the Bhagavadgita because, even though I've studied it, and studied it in depth at an Ashram with a Swami, and the war is supposed to represent the struggle with Self, I still see it as war, and I refuse to believe that we need to learn about ourselves via war – and maybe that's why I'm still learning, because that in itself is a war. But I digress…) So – back to the Tao Te Ching: As I said, find a copy with commentary. One I've read that I've enjoyed and recommend because of the simple writing style is Wayne Dyer's "Change Your Thoughts, Change Your Life – Living the Wisdom of the Tao."
The Life You Were Born To Live by Dan Millman. Okay, here is a practical book that will also teach numerology. This book will give you a beautiful Big Picture of the Personality and its Soul Quest (these are my terms) via numerology. There are gems in this book that, when you read them, your Being will be filled with one "Aha" after another. You will find yourself nodding your head in recognition, and it's the kind of recognition that our Souls see beneath the deepest waters of our psyches.
Light Emerging and also Hands of Light by Barbara Ann Brennan. These are beautiful books that will help you understand hands-on healing, the aura, and chakras (and other parts of the "subtle body"), and these books will give you a beautiful visual for what you are intuiting about our "subtle body".
And, yes, I am a fan of the spiritual writings of Shirley MacLaine. The woman has traveled the world to find her truth and share it, and she risked ridicule and her career to do it. I believe many of her truths are Universal. I really like Dancing in the Light and Going Within. Maybe it's because I was involved in theatre and dance for so many years that I identify with Shirley (first name basis even!), because I understand that what you have in your mind's eye you can create on this realm. When I directed a show, I had a vision of what I wanted to see on the stage, and then made it happen (along with the actors, technicians, costume designer, set designer, etc.!). It took a long time to realize that we can do that in life, too. Shirley MacLaine's books will help you see – and understand – that as well!
Fiction: I love fiction that can teach spiritual principles. It's also one of the reasons I am writing The Grimoire Chronicles. I'm only going to list two books here, and I would love to hear from you what fiction books you have read that have changed your life!
2150 by Thea Alexander. This is when I learned that fiction can entertain and be a wonderful way to learn. It was written in the 1970's, and it's about a guy who wakes up in a utopian future where we as a society have everything spiritually figured out. I know, fiction, right? I read it when I was 15 and it began my quest for the truth of why we're here and what religion and spirituality are all about. This book, along with other life circumstances and books, jump-started my life-long journey into metaphysical studies. This is the power of fiction. I'd say it was pretty significant!
The Celestine Prophecy by James Redfield. Say what you will about the writing (I've said it myself), but the ideas in this book will start you on a personal journey into the discovery of Self.
There are a bazillion more books, but this is a good start. I'd love to hear what books changed your life, or share your experiences with the books mentioned above!!! Please click on "leave a comment" below to to talk about your faves!
Brightest Blessings and Happy Reading!
Sally