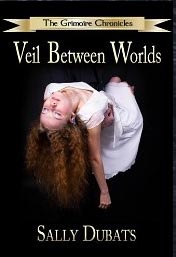 Cassie is a teenage Witch with a problem — her memory was stolen. She blames astral projection; unplanned out-of-body experiences that induce amnesia happen when life gets ugly. Cassie does what any Witch would do; she casts a spell to remember. The magick sparks a mind-blowing adventure to another dimension where anything is possible, supernatural beings abound, and a dangerous romance blossoms with the very mysterious Trenton.
But Trenton is hiding terrible secrets, and Cassie suspects that he just might be the one who ripped a hole in her memory. The Witches' New Year looms, and the veil between our world and the next grows thin. Time is running out, and Cassie delves deeply into the highest arts of Witchcraft to discover the terrifying truth… and to survive. Will Cassie be trapped between worlds? With Trenton? Forever?
And who. . . or what. . . is Trenton?
The story is fantasy. The spells are real.
Heather Powers "Earth's Book Nook"
Beautifully crafted paranormal romance with Wiccan overtures
This is a brilliant foray into paranormal romance and Wicca practices. This stunning beautiful masterpiece drew me in from the first page. See more >>
Let me start off my saying this book was just great ! I was absolutely fascinated by it right off the bat because it is about witchcraft. The thought and planning the author must have put into the novel is evident. I found myself so engrossed in all the information the author gives us about Wiccan.
Cassie was a great protagonist.I felt she was head strong. I liked her personality and she was really relatable. Trenton was just … great! He was the PERFECT match for Cassie's character. I also really enjoyed Cassie's aunt. She was somewhat eccentric.
The plot of the novel was as original as it gets in my opinion. For those that have or will read this novel (which I highly recommend you'll understand what I'm speaking about. Sadly, since this is a spoiler free review I can't exactly mention what mythological creatures Sally Dubats involves in her story. But let me say this is the first story I've read that involves them and I was pleasantly surprised.
And thank you Sally Dubats for writing such a great novel 🙂
Fantastic and Exciting Read!! A must read!
Don't let the classification of young adult stop you from reading "The Grimoire Chronicles : Veil between Worlds" By Sally Dubats. This is a story for all ages. . .
The story line is well thought out and moves at a very exciting pace and I felt like I was on a roller coaster ride as the author revealed the dangerous element to the story. This element of danger and threat really gives the book the boost it needs to push it past the young adult genre and was enough to keep me wanting more. One thing that really stood out was the authentic portrayal of Wiccan ritual and lore ; combine that with Ancient Myth and it added a whole new dimension to the book that was fascinating. See more >>
The major twist involving Trenton and his family? I definitely did not see that one coming, and it helps to make the story that much more interesting. . .
I don't know much about Wicca, or the craft, but that didn't stop me from enjoying Veil Between Worlds. With an interesting storyline, and characters you'll come to love reading about, Veil Between Worlds is definitely worth checking out.  See more >>
Cynthia Jones – The Wytch's Mirror
Absolutely Perfect! I loved it!
The Grimoire Chronicles: Veil Between Worlds by Sally Dubats, though fiction, has moved me spiritually more than I could ever have expected. Every detail of this novel, from the cover to every word of its contents beautifully portrays its lesson
We have been given many entertaining television series and movies, not to mention the many titles in books that share in part Wiccan traditions, and a Witch's path or a Pagan's journey. Not always do these reflect truth, and sometimes leaves the world to view magic and magick as something horrible, evil, and dark. In Sally's 'The Grimiore Chronicles', not only is the reader entertained with an unique and interesting paranormal romance, but the details involved are facts and truths, finally shedding a positive view opposed to a negative one.
I was on the edge of my seat concerned for the characters how these scenes would play out. A magnificent story with great detail and an absolute must read novel!
Amazon.com Reviews!
Once you start this, you won't want to stop
Within a couple of minutes of reading, I realized how much I wanted to be in this world. The rich descriptions allow the reader to feel like they are there while the story develops with some unexpected twists.
The witchcraft within the book is honest and wonderfully done within the story. Gives those unfamiliar a glimpse into the life of a real witch, without distracting from the story. Fantasy and reality mix well to share insights while sweeping you into a tale you won't soon forget.
I couldn't put it down.
miraj of Miraj's Metaphysical Madness Podcasat
A book for all generations to read
I am certainly not a teenager and have not been for many years, yet I loved this book and having a hard time waiting for the next book of "The Grimoire Chronicles" to be released. This is a book I enjoyed so much I will be rereading it over and over!
I COULDN'T STOP READING IT!!!! It was very detailed, fast paced and all I can say is I can't wait for more. The characters were teens and I know that most who would want to read was pushed towards teens but I told my coven about it and hope they will read it too. There is so much magical things that I (as a High Priestess) had to stop and study more about. I will be on to download the next one as soon as I know it's available!! Bravo Sally, Bravo!!!
I was hooked right at the first couple chapters and read it all in one sitting! I want More!
GREAT author! I am looking forward to reading other books by Sally!
Fantastic Book!
I was directed to this book at the suggestion of a friend. She described it as Twilight-y and Harry Potter-esque. I did see some similarities between this book and the Twilight and Harry Potter books, however I also found this book to be original and entertaining. I particularly enjoyed the presentation of Wicca. It is central to the plot, but it isn't in-your-face. The parts of the book that deal directly with Wiccan ritual present them in an honest way which shows the meaning behind them. This gives the reader a good basic understanding of Wicca.
The story is sweet and filled with teenage curiosity and emotion. It is geared towards young adults, but I believe any adult would enjoy it. I downloaded the book and read it within two days. I simply could not stop reading it! I am eagerly awaiting the next installment.
Give the book a try, you won't be sorry!
What I found wonderfully drawn was the inclusion and depiction of Wiccan practice and magic which–with the exclusion of the astral travel, which few in my experience can do well, let alone this often, easily, and vividly–is quite authentic and nicely woven into many aspects of the primary character's lives. Better still was how Dubats depicted a certain personal growth in the main character, who learns not to stereotype and label others by the novels end in a very convincing and elegant way (frankly, I wish I had a teacher like Mrs. Boyle when I was in high school).
If I was a mother, I would happily share this with my own Wiccan children.
Great read for everyone
In The Grimoire Chronicles: Veil Between Worlds, Dubats has created a heroine who could easily be the girl sitting next to us in Chem lab in high school – except that we care about Cassie in a way we really didn't about the girl sitting next to us.
Cassie, of the frizzy red hair, is Wiccan, but that only describes her religion. She falls prey to a predator, but refuses to be a victim. Cassie confronts her demons. She courageously discovers the long-held secrets of a race of people the rest of us didn't know exist, who are brilliant and talented . . . and dangerous.
I thoroughly enjoyed this novel. Even though it is labeled "Young Adult", it is a tale for readers of many ages. The book is well-written and well-conceived, allowing us to move into the overcast and rainy world of Oregon, the local high school, and deep, deep secrets. And I loved learning about the real world of Wicca.
I highly recommend Veil Between Worlds and look forward to the next installment.
Save