This short story is a present for those of you who asked me to write something about Vampires. This is also a little snack for those of you waiting for Book 2 in the "Grimoire Chronicles" series (thank you for your patience!) And without further ado… ::a red velvet curtain opens::
With This Blood, I Thee Wed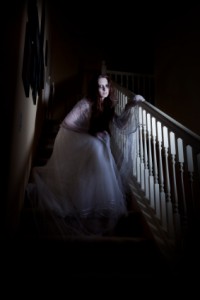 Mare sat on the edge of the bed and again arranged the sheer fabric of her white negligee and its matching peignoir so they would drape in what she hoped was an enticing manner along the sides of her legs. She delicately crossed her feet at the ankles. Too demure. She leaned back on her elbows. Too sexy. Mare stood. The negligee and peignoir draped around her ankles. She walked across the room and turned off the light. The remaining candlelight was far more romantic. The small flames lit the room, and shadows played along the wallpaper of delicate roses. The old Bed and Breakfast rested on a cliff high above the ocean, and the honeymoon suite was spacious and hopelessly romantic.
Mare sat back down on the bed and shrugged her long, shiny black hair behind her. The hair cascaded down her back like freshly draped silk. She had applied her makeup to perfection — ruby lips, soft blush, seductive eyes. She fought the urge to check her makeup again, and fanned the diaphanous negligee around herself on the bed, making her the centerpiece. She envisioned herself a delicate flower waiting for the untold delights her new husband would bring on his return to their honeymoon suite, and she trembled with delight at the thought of his touch. Read the rest of this entry →