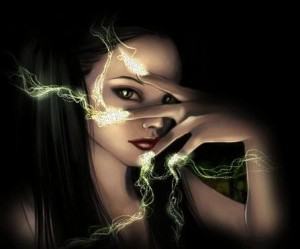 Flirting Spell
This spell is to draw out your flirty side!
There are a lot of love spells circulating, but there are very few spells that address the most basic aspect of love: The initial meeting, and the art of FLIRTING! For some, whether male or female, the act of flirting is second nature. For those of us who are slightly shy or need confidence, a magickal nudge can make all the difference! This also works if your current relationship needs a little spice. With all the holiday parties this time of year, a flirting spell is just what the Witch Doctor ordered 😉

I like this spell because it is about giving yourself confidence, not manipulating others. This spell enhances a part of you that already exists, but that maybe you haven't dusted off in a while.
You will need incense. Sandalwood or Patchouli are particularly nice for works of magick involving love and flirting. You will also need a crystal or a stone to use as a talisman.
This is a simple spell that only takes minutes and is incredibly effective. Do this spell just before a social engagement when you are likely to need your flirtatious side and want to feel particularly attractive. Couples in a relationship may also enchant each other in a similar fashion to bring one another into a like-minded state (wink wink).
The chakras are energy centers in the body. There are seven main chakras that are positioned from the base of the spine to the top of the head, and have a long history within Tantric practices. To bring out your flirty side, you will bless each one to be in alignment with your magnetic self, your flirty self. This spell works especially well if you're normally shy at gatherings. You can change the words to suit your needs; perhaps you simply want help coming out of your shell to meet people and be at ease.
To perform the spell, get ready for your party, date, night at home with your sweetheart, or trip to the library (there are lots of places to flirt!). Dress in a way that makes you feel sexy, and within your comfort zone. Smile a lot while you're getting ready, and envision a fabulous night (or envision at least smiling at someone while grocery shopping).
Light the incense.
Prepare yourself by slowing down from the cares of the day and sliding into the present moment. Inhale, and as you exhale relax your body. Inhale, and as you exhale, allow your mind to calm and thoughts to slow. Inhale, and as you exhale, relax your spirit by releasing any expectation.
Hold the incense in front of you, and guide the incense with your hand by waving the smoke toward the top of your head. This is the seventh chakra that connects us to the spirit realm. Say these words or words of your own, "I bless my seventh chakra to be in alignment with my joyful self who is drawn to others who are like minded."
Guide the incense smoke toward your third eye, the sixth chakra between the eyebrows responsible for seeing intuitively, and say, "I bless my sixth chakra to enhance my intuition to see who I need to meet."
Guide the smoke toward your throat, the fifth chakra responsible for communication (both listening and speaking), and say this or words of your own, "I bless my fifth chakra to release communication inhibitions, draw fun and enchanting words from my mouth, and recognize and be receptive when someone is attracted to me."
Guide the incense smoke toward your heart, the fourth chakra responsible for Oneness with All and loving the Self. Say these or similar words, "I bless my fourth chakra to open to a joyful and lighthearted night!"
Guide the incense smoke toward your solar plexus, above the navel, the third chakra responsible for personal will, and say these or similar words, "I bless my third chakra to be in alignment with my personal will to open up socially tonight and be the dynamic and flirtatious person I envision."
Guide the incense smoke toward your second chakra, just below the navel, the chakra responsible for relationships, sexuality and creativity. Say these words or similar, "I bless my second chakra and open myself to desire and being desired, and I open myself to being creative and free in expressing my sensuality."
Guide the incense smoke toward your first chakra at the base of the spine (you can guide toward the front side of your body), the chakra responsible for connecting to our vitality, health, wealth, and hearth, and our connection to Mother Earth. Say these words or similar, "I bless my first chakra to open myself to my personal vitality, the force that guides me joyfully through this adventure called Life."
Finally, hold your crystal or stone over the smoke, and visualize yourself being social, carefree, and above all: FLIRTATIOUS! Visualize a really fun evening, and mentally infuse a snapshot of that image into the crystal. Carry the crystal with you for a Talisman to Flirt. If you have a pocket, keep it there and hold it for extra confidence. Be bold and smile!
Perform this spell before any social engagement with the potential to meet someone special, and see how receptive you become to all the signals around you!
Brightest Blessings!