"Winter Shock" is finished! I am so very pleased to present my latest work to you – just in time for Yule!!! This is the second book in "The Grimoire Chronicles" series, and it takes place during (you guessed it!) YULE!
Brightest blessings for a beautiful Winter Solstice!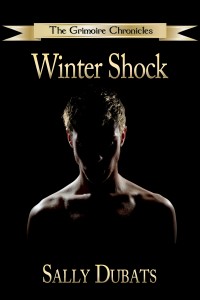 WINTER SHOCK
"Trenton drugged and kidnapped me. I was powerless."
Cassie's neighbors have secrets, and she is one of them.
A Witch taken against her will to an isolated, frozen wilderness on an impossible quest, Cassie defends herself against Trenton who has gone over to the dark side. One minute he's adorable and charming, and the next weird, uncaring, and hostile. And now, Cassie fears for her life.
Winter Solstice draws near, and Cassie performs magical spells to gain clarity. Instead she is shocked by visions and mind jumps into the lives of strangers on the brink of disaster.
Why is she in a hostile, threatening wilderness? What is causing the horrific visions? Cassie discovers there is much more at stake than her own survival. To survive, she must overcome impossible odds.
"Winter Shock" is a paranormal fantasy novel that you'll never forget! If you love paranormal romance, urban fantasy, Witches and Wicca, paranormal mystery, paranormal horror, action and survival, "The Grimoire Chronicles" series is definitely for you!