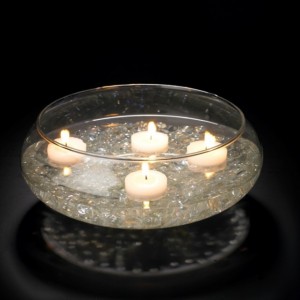 Imbolc is February 2nd, the midpoint between Winter Solstice and Spring Equinox. The days are getting longer, which literally means more light, sunlight, fills our days. We can use this as symbolic of more light in our lives. If you're in school, Imbolc is a great way to mark how few months are left until Summer Vacation! Using candlelight is the perfect way to bring more joy and light into our lives. As we focus on it, so it is!
There is no limit on the amount of joy we can experience. The purpose of this magickal work is to create joy, or to expand your joy. It can also be used as an initiation to a new phase of your life and an opportunity to connect with the Sacred.
You will need: A large bowl filled with water (a glass bowl is lovely because of its reflective properties, but any large bowl will work). A candle to float (removing the tin from a tea light will work, or use candles specifically suited to floating). Use one candle per person if several people are present. You will also need oil or incense to bless the candle, and matches or a lighter.
You may do this with a group, coven, or by yourself. You may also do this in a circle as part of ritual, or simply as a tool while visualizing.
Sit with your bowl of water in front of you. Hold your candle, close your eyes, and take three sacred breaths. First Sacred Breath: Inhale. Exhale slowly, and completely relax your body. Breathe for a moment. Second Sacred Breath: Inhale. Exhale slowly and completely relax and clear your mind, moving deep within the Self and letting go of the cares of the day. Breathe a moment. Third Sacred Breath: Inhale. Exhale slowly, and allow your Spirit to settle and know that all is as it should be. Open your eyes. Breathe.
The magickal Imbolc work you are about to do is filled with symbolism and meaning. Each element is present. The Water in your bowl represents the Waters of All Time that have moved through every single life that has ever lived: present for every emotion and thought (hold your hand over the Water and thank it or do another blessing that you prefer). The candle and wick represent the Earth: Gaia has experienced every footstep and event since the existence of humankind (hold your hand over the Earth/candle and thank it, or do another blessing you prefer). When you light the candle, Fire is present: Just as fire had the power to change the course of humankind when first discovered, it can change the course of your life. Air: Necessary for Fire, mingled in Water, and keeps everything on Earth alive.
Gaze at your unlit candle. Like you, it is potential. Like you, it is formed to a particular purpose. Like you, it will become something else when that purpose (lighting it) is activated. Consider that you have more work to do on this planet, and that you are open and receptive to change. Know that the candle will go through an initiation and change to a higher calling, just as you are about to go through initiation and a higher calling. Use either incense or oil that you have blessed and/or thanked – and bless the candle. To do this: Light the incense, and hold the candle within the smoke, knowing that the candle is in its perfection and surrenders to the process of initiation and change. As an alternative, dab a bit of oil on the bottom of the candle. Even a dab of olive oil works if you don't have essential oil.
As you light the candle, say these words or words of your choosing that have meaning for you, "I light this candle, perfect as it is, as a symbol. I am perfect as I am, and now choose to move forward and expand my Light Within. I am willing to step forward into a new Light. I am willing to change."
Gently place the lit candle into the water.*
Because we are all One, and separation is an illusion, we can now use this lit candle to represent the All. As you gaze at the floating candle (or candles if you are in a group), focus on the changes you want to see in your life, knowing that you are cradled in sacred waters of change. Water can be mist, ice, rain or a vast ocean. We can be as many things too, and just as powerful. Next, expand the beauty of your perfect vision to your family. Then expand to your community of friends. Then expand to the city where you live. Then expand to your state or province. Then expand to your country. Then expand to the planet. Visualize the planet as filled with Perfect Light, Perfect Love.
Hold the vision.
Take the Three Sacred Breaths to center and ground yourself(ves).
Blessed be and wishing you a beautiful Imbolc.
*Of course, always use extreme caution when working with fire, candles, incense, etc. Never leave burning candles unattended.