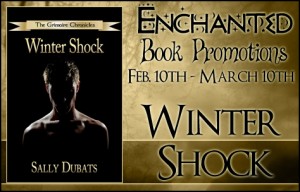 I'm so excited!
Check out I Heart Books for a kick-off to a month-long virtual tour. There will be: interviews, guest blogs, book excerpts, and best of all:
FREE E-COPIES OF WINTER SHOCK!
To find out when the give-aways are, all you have to do is click the link above!
Majanka has done a wonderful job of coordinating a spectacular month. Thank you, Majanka!
And of course, I wish you a very magical month!
Brightest blessings!
Sally