All Hallows Eve
 By Sally Dubats

Welcome ye now
to All Hallows Eve
Open the door
To webs we weave.
.
Midpoint between
Mabon and Yule
See the unseen
When nature is dual
Love and Light,
To Friends who've passed,
Taking our flight
Together at last.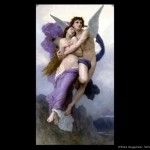 The Veil is thin
Between our Worlds
You'll hear the din
As belief unfurls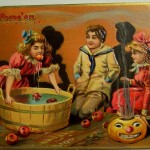 Apples and Candy
Bobbing and fun
Celebrate, Yes!
But when feasting is done…
Settle ye spirits
On this Sacred night,
Time to hear
Our stories of plight

We remember now
Those we've lost
And our heads do bow
At the great cost
Fathers and Mothers,
Sisters and Brothers,
Friends and Lovers,
Cousins and Others.
So candles burn
To honor those passed
And show the way
To Summerland's rest.
The Veil will lower,
This we know
But cherish the hour
And don't be low.

In a year and a day
Bless'ed candles we'll burn
An' next All Hallows Eve
Departed Spirits Return
***
With Love, Light, and Brightest Blessings
Happy Samhain,
Sally